We are currently auditioning for 2 shows, ALL THE KING'S WOMEN and HAIR.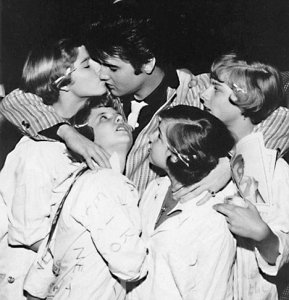 ALL THE KING'S WOMEN
by Luigi Januzzi
The life of Elvis Presley told through the eyes of 17 women
Some enthralled, some appalled, all obsessed!
**
5 One Act Comedies, 3 Monologues
**
Directed by Arlene Filkoff
Audition date: Friday, September 26th at 7:30pm
Performance dates: November 14th and 15th, 2014.
Casting is flexible — potentially two men, one 40-50 and one 18-35
As many as 17 women, but possibly as few as 3, all ages 20 and up
Also looking for production help, sound stage manager, props, producer.
Auditions will be cold readings, there is no material you need to prepare.
AND
HAIR
Audition Dates:
Saturday, September 27th at 11am
Sunday, September 28th at 3pm
Show dates: mid-January
Please prepare 1 minute of a song of your choice to be sung a cappella. If you would like to sing with accompaniment you may prepare "Aquarius," "What a Piece of Work is Man," "Good Morning Starshine" or "Easy to be Hard" from the show.
HAIR is a culturally diverse show and we encourage all to audition. However because of the nature of the material, all performers must be at least 17 years of age.
If you cannot make the scheduled times but would still like to audition, please contact the Director, Megan Milburn at guilf1480@hotmail.com or (203) 400-8818.