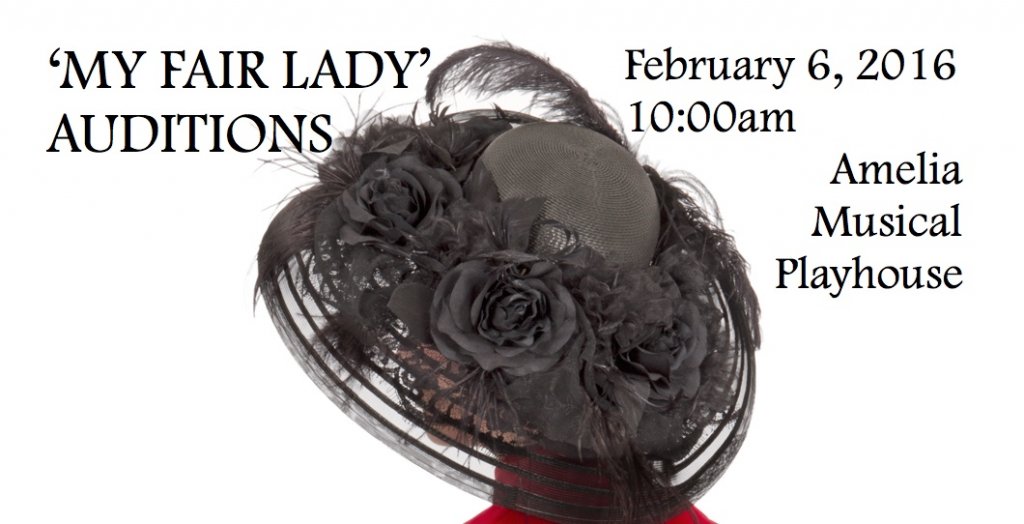 Performance Dates: June 9-25, 2016
Directed by: Geoffrey King
REQUIREMENTS
Given the geographical setting, London, the necessity of plausible British accents (of various sorts) is pretty much essential! Clearly, in the case of 'Eliza' the actress must be able to transition from cockney to "posh," without difficulty.
Though the bulk of the show focuses narrowly on Eliza, Higgins & Pickering, the chorus play a crucial role in several scenes. Sometimes as cockneys, sometime as race-goers, attendees at the ball or guests at Alfred's wedding etc etc. There will also be opportunities for chorus members to 'double' as minor characters throughout the production so, "the more the merrier!"
Such dance numbers as there are will be kept, choreographically speaking, as simple as possible so do not fret on that account!
We would like to hear each candidate sing a number from the show so please be aware of that. Also we will try out some short pieces of dialogue & ideally, a chorus number. There are any number of YouTube excerpts available if needed & the script can be downloaded for no charge.
PRINCIPAL CHARACTERS
Eliza Doolittle (Soprano A3 – G5)
Needs energy; a delightful voice; strength; vulnerability; skilled with British accents; age 18-25
Professor Higgins (Baritone B2 – E4)
Mature; sophisticated; be at least as good a singer as Rex Harrison; excellent British accent; age 45-65
Colonel Pickering (Baritone C3-D4)
Similar requirements to those for Higgins (Wilfred Hyde White was an even worse singer than Rex!)
Alfred Doolittle (Baritone) – A "big" personality; energetic; age 35-60
Mrs. Pearce (Mezzo-soprano) – Homely; gentle but tough; age 35-65
Freddy E-Hil (Tenor) – Handsome; naïve; age 25-35
Mrs. E-Hill – Rather grand; age 45-65
Mrs. Hopkins – Cockney; indeterminate age
Mrs. Higgins – Think "Lady Bracknell"; elderly
All other speaking parts will be played by members of the chorus.
I truly love this show! I believe it has the unusual feature of containing 100% great songs… something not all 'hit' musicals can boast! Singable songs, fabulous costumes & a story with a message, what more do you need?
For those who need more information or wish to schedule a different audition date/time, here is my contact information:
email: gdwking@gmail.com
phone 904-310-6023 (H) or 904-583-1119 (C)
Hope to see you on the 6th.
Geoffrey King